I've dreamed about my wedding dress since I was a little girl. I even asked for one for my sixth birthday. I think the fact that my family didn't have a lot of money growing up made me dream of my princess moment. This moment where I get to wear the big ball gown and be the most beautiful person in the room. After all that's what the fairytales told us and made us dream about. So whether you are like me and have dreamed about saying "Yes to the Dress" since you could remember or you have only recently begun to imagine yourself on that wedding day. Here are 5 Steps to Saying Yes to the Perfect Dress!
STEP 1: RESEARCH DESIGNERS WITHIN YOUR BUDGET & MAKE A LIST OF FAVORITE DRESSES BY THAT DESIGNER.
It's safe to say that following my engagement I was excited to begin dress shopping. After using Mia Riley Designs for Styled Shoots, I knew they would have my perfect dress. They are a Bridal Dress Shop based in Brea, CA.
I reached out to the stylist and scheduled my appointment, I also made sure to look through all the dresses on their website and to let them know which dresses I wanted to try within my given timeframe. Because I am getting married in August I need to choose a ready-to-purchase dress vs. one of their custom-made ones.
Mia Riley Designs has an emphasis on the dress shopping process. They match you with the perfect stylist for your personality, style, and wedding day. That stylist is there for you from the second you inquire throughout the dress buying process.
"Mia Riley Designs launched in March 2019 by a small team of creatives from different parts of the wedding gown industry. Our mission is to bring quality and affordable gowns to brides, do it with a friendly vibe during the process without any pressure, and do some good when we can. For every gown purchased, we'll give a portion to an organization that works to support women and girls."
-Mia Riley Designs, Our Story
STEP 2: CHOOSE WHO WILL DRESS SHOP WITH YOU.
Here are 3 key things to keep in mind when choosing who is with you for dress shopping;
-People whose opinions you trust.
-People who have your best interest in mind.
-Family who won't stress you out or create further tension.
I knew I needed to choose my dress very quickly following my engagement. Which did not give me enough time to have my mom and sister time to travel in for dress shopping. So this left me with asking my in-state bridesmaids and future sister-in-law to join me. Everyone who was out of state was invited via zoom to join us.
If you invite people via zoom to attend make sure that the location has decent wifi.
STEP 3: MAKE IT A FUN DAY!
This is an experience you will only have once. so make it fun! Plan brunch before or after dress shopping with your people. Get coffee. Dress up!
I'm a HUGE visual person. I cannot get my haircut without having my makeup fully done, if I forget to do my makeup I absolutely hate the haircut. Because of this reason I knew I needed to have my hair curled and do my makeup for this day. Even if it meant covering up my face with a mask. I knew that having the whole picture would allow me to know how I wanted to look on my wedding day.
STEP 4: TRY ON DRESSES.
Once you are at the bridal store and you begin trying on dresses. Be open to trying on different styles. You might just find that you feel the best in a totally different style than you always imagined. I was actually pleasantly surprised with how I felt in a tea-length dress and a more fitted style. Come in with an idea of what you want then be adaptable. My biggest piece of advice is to try on the "fun" dress that is totally not you. Hence the Hermine Granger esc dress with all the frills down below. It's also a fun way to cleanse your palette and solidify what you do want.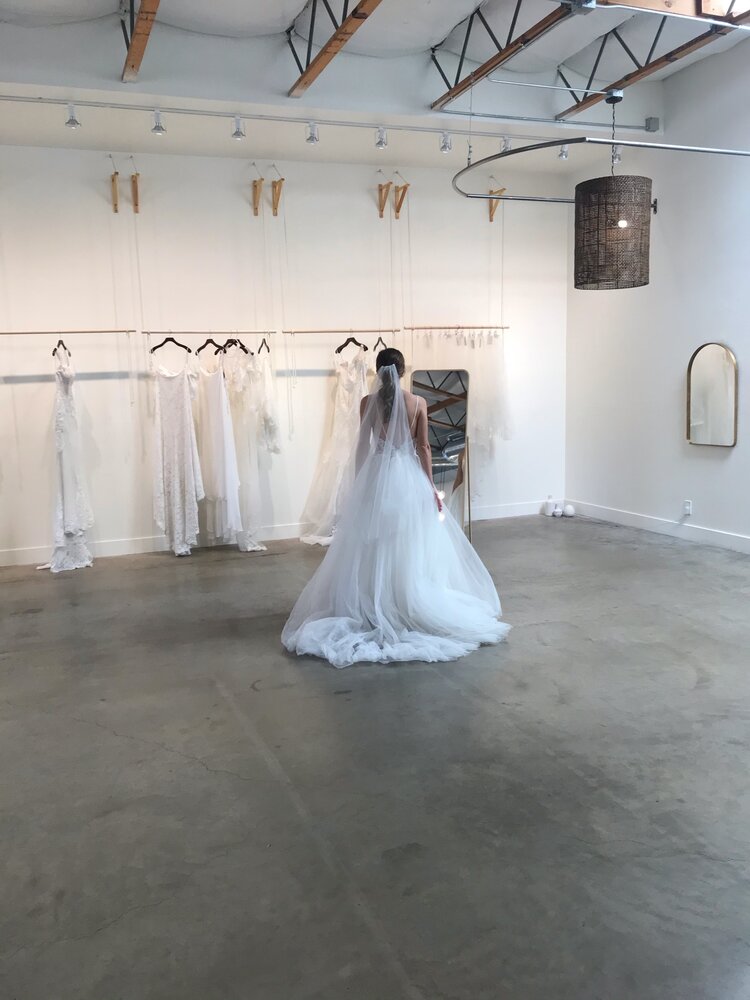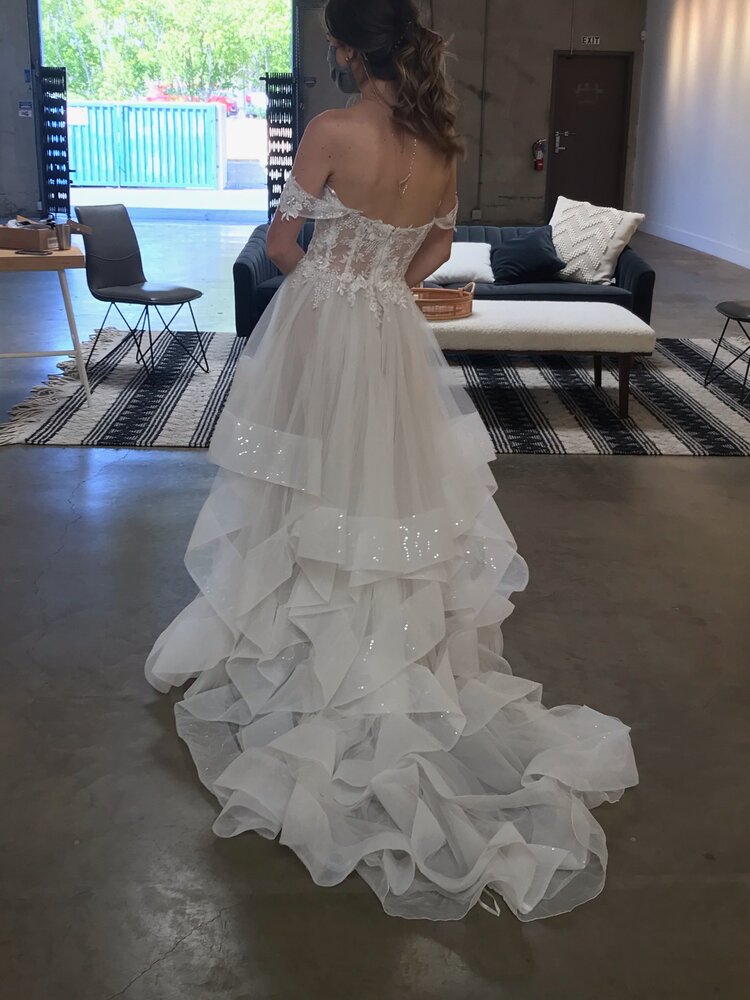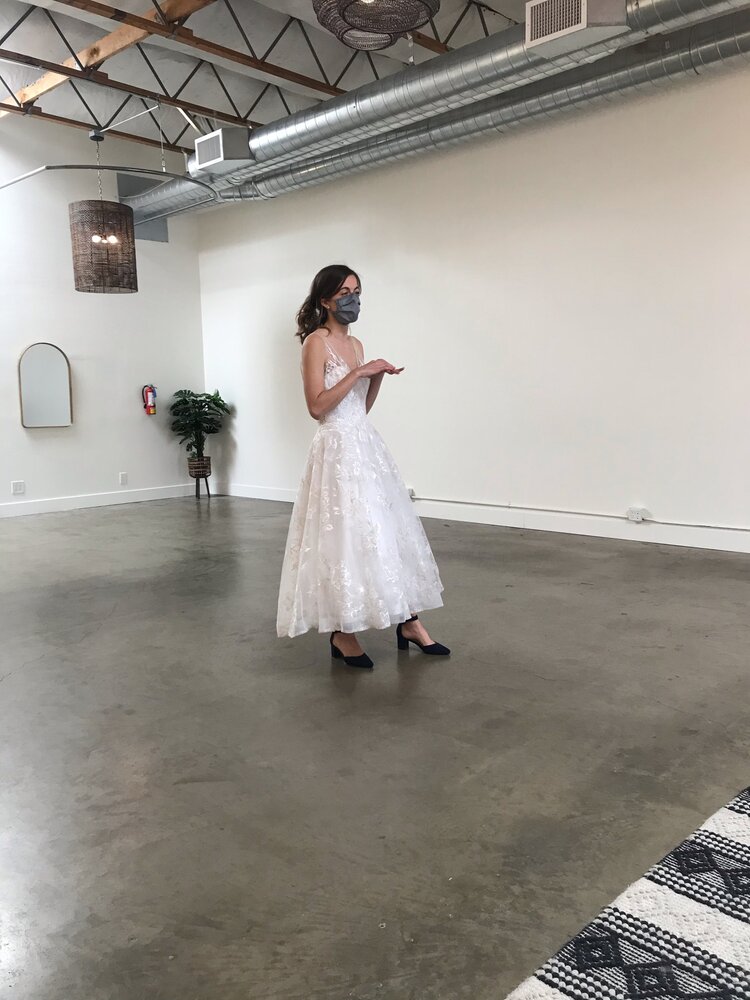 STEP 5: SAY YES
Let's talk about the "Aha moment".
In every movie we watch and as in the ever-popular Early 2000's TV Show "Say Yes to the Dress" communicates. You will have this moment where you feel an overwhelming feeling at the moment that this is the dress that starts your beginning. You become emotional and start crying. I was fully prepared for this moment. I went into my dress session with this idea. However, my stylist, told me that I may not feel anything and that is okay!
If I hadn't been told that, I would have felt so discouraged at the end of my session. THERE WAS NO MOMENT! The only indication of a feeling with the dress I chose was one that the first time I put it on, I had a gut feeling. I can't describe it, there were no nerves or butterflies. Just a gut feeling that it was my dress. At the moment I ignored it, worried about imposter syndrome but as I tried on all the other dresses, I just wanted to try on THAT SPECIFIC dress again!
Dear Friend, I want you to remember something. It's okay for your wedding planning process to not be like the movies. It's okay for you to advocate for yourself and not make these moments what everyone else wants them to be. It's okay to invite only one person to shop with you AND it's okay to wait to dress shop and invite your whole crew of people(just keep in mind, more people means more opinions, both good and bad). This is your day, your moment, your dress. Make it exactly how you want it to be, make it perfect for you.
Q/A with Scott Lu of Mia Riley Designs
1. What wedding day logistics should a client think about when purchasing the dress?
Scott Lu of Mia Riley Designs: I always tell my brides to make sure that they're comfortable. You're going to be wearing the dress for a few hours, so make sure you can do the hug test, the dance test, and the sit test. If you're struggling with any of these things – then maybe look at other shapes and styles.
2. What should you do prior to an appointment to be most prepared?
Scott Lu of Mia Riley Designs: Do some Pinteresting, post saving, or just good old fashion magazine page flipping and pick some styles, moods, or vibes that you like. It helps us better understand what you're leaning towards and also what you like and don't like. But most importantly, come in with an open mind, a clear budget, and just ready to enjoy the moment.
3. Tips for trying on dresses and the emotions that come with the process.
Scott Lu of Mia Riley Designs: So. I always tell my brides the first thing when I meet them. Don't put pressure on yourself to find the one, shed the tears, and have a reality tv show moment. This is meant to be a fun process to find a dress that's handmade for you, makes you feel gorgeous and confident, and, at the end of the day, the gown that you're going to celebrate your partner with. Also, there are times there are other personalities that come along to your appointment. And although their suggestions are so valued – you're picking the dress for you. So before you head out of the dressing area, take a moment and look at yourself in the mirror. Make your decision (even if it's a maybe) and then go outside to hear their thoughts. Because at the end of the day, those people will still be at your wedding and still celebrate the two of you even if you didn't pick their favorite dress.
4. How long should you plan to spend trying on dresses?
Scott Lu of Mia Riley Designs: Most appointments are only an hour, but at Mia Riley we give you two hours. This just lets you take your time, take breaks, and just make sure you don't get too overwhelmed with the process. Most of our brides hit an hour and a half before they tap out.