Welcome to our first ever guest blog written by Sarah Yates. You can find her on Instagram at @sarahyatesphoto or on her website https://www.sarahyatesphoto.com/.
There's a lot that goes into wedding planning and I know first hand, it's stressful. As a past bride and current wedding photographer, I completely understand that chaos and stress of planning your wedding. One way to avoid a bit of stress is to hire vendors who will support you amidst the stress and offer their advice, their help, and be there for you.
As a wedding photographer, my goal is, of course, to take and deliver beautiful photographs for my couples, but it is also my goal to support them as they plan their wedding. I send my couples a questionnaire about a month before their wedding that walks through a few basic questions and details about their wedding day. But things change last minute, couples get new ideas, and sometimes, couples forget to mention a few things to me that ultimately would be incredibly helpful if I knew beforehand. Here are 5 common things couples forget to mention to their photographer until the day of their wedding.
Anything special events or moments happening throughout the ceremony. Some examples of this include surprising a parent with the song choice you walk down the aisle to; maybe it's their wedding song or a song that you know will make them cry. If you're taking communion or participating in any sort of traditions during your ceremony, let your photographer know! That way they can photograph the elements beforehand and be ready to photograph the tradition. Another example of a moment you should tell your photographer about is a special exit—are your guests throwing flower petals as you recede down the aisle? If you're doing anything additional to a basic ceremony, it's a good idea to tell your wedding photographer.
Tensions amongst family members, recent deaths. Family photographs tend to be a bit of a stressful part of the wedding day. Your photographer should have a shot list of the photographs you want (if they don't ask for this a month before your wedding, I highly recommend sending one to them), but if you don't warn them about any familial tensions, things can accidentally get a bit dicey. Let your photographer know if there are any tensions amongst family members who might be in the same photograph together. In the same way, if there are any recent deaths or sensitive subjects, it's always a good idea to let your wedding photographer know beforehand.
Surprises during the reception. This is a fun one! If you are doing a dramatic grand entrance, a funny dance during your first dance, or a rehearsed bouquet/garter toss, please tell your photographer! This way, they can be in the right spot for the photographs. Also, if you are doing anything special throughout the dancing portion of the reception, be sure to tell your photographer! You don't want them to be in the bathroom when you are doing a flash mob halfway through dancing.
Timeline has changed. Personally, I either work with the couple to create their timeline or I talk with their wedding coordinator about it. A timeline is one of the most integral parts of your wedding day as it gives photographers a guideline of how long they have to take all the photographs necessary. If your timeline changes at all, please let your photographer know! If suddenly they now have 30 minutes to take bridal party and romantic photographs instead of an hour, I guarantee you—we can do it, but it's a bit stressful! Just give your photographer a heads up if anything in your timeline has changed. (*Protip: if you have a wedding coordinator or planner, they should take care of this for you!)
Wanting photographs at a specific place at your venue. I had a couple get married on an estate property this year and they wanted to take a few romantic photographs inside of the estate. I am so glad they let me know beforehand—I was able to have my lighting gear with me so I could take the best photographs inside. I also want to encourage you that if you have a few places at your venue that you really want to take photographs at, please, please tell your photographer! Even if you forget to do it until the day of, I encourage you to speak up and let them know! They will let you know if for some reason it's not a good idea; but honestly, some of my favorite photographs have been taken where the couples wanted to go! Don't be afraid to speak up—your photographer is there for you!
All of this to say, your photographer is there to support you and take incredible photographs that capture the beauty and excitement of your wedding day! If they don't already ask these things, be sure to let them know! Here's a quick way to do it. Copy and paste this into a note: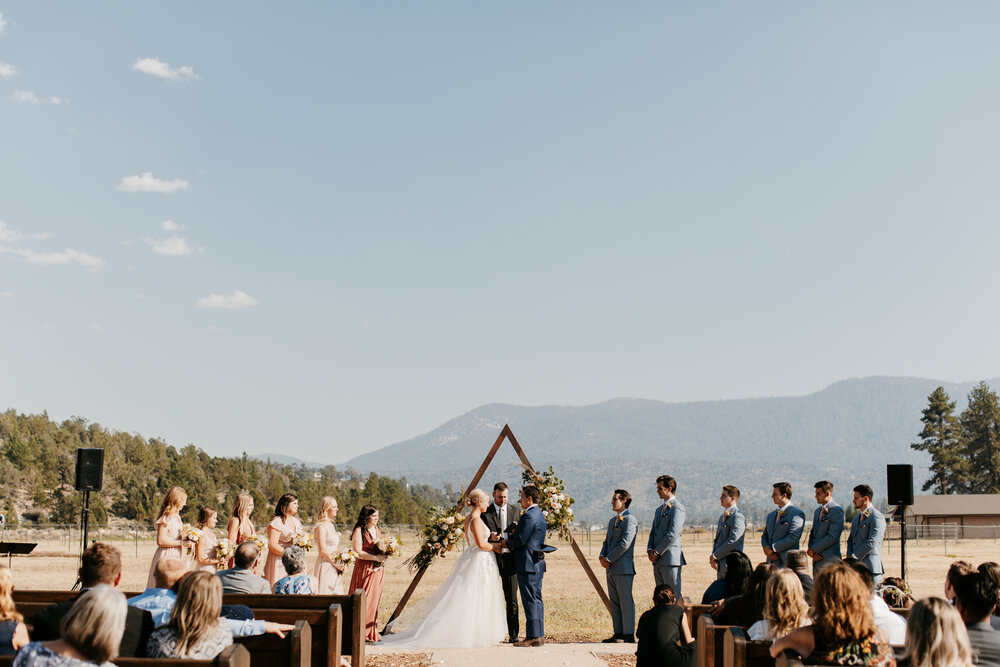 Is there anything special happening during our ceremony?
Are there any tensions among family members?
Are we doing any surprises at the reception?
Has our timeline changed since we last talked with them?
Do we want photographs at any specific locations?
Now, come back to this note a few weeks before your wedding and if you answer any of these questions with anything except "no," then text or email your answers to your photographer!
Let me end with this final piece of encouragement: your wedding day is going to be absolutely wonderful. It's all about you marrying the love of your life! The details will fall into place. Trust others, ask for help, and take a deep breath. Your wedding day is going to be great.
Always,
Sarah