TODAY'S BLOG IS WRITTEN BY BILLIANN DUNN OF BLOOMS DUNN RIGHT.
Blooms Dunn Right is a So Cal Wedding Florist who believes "There is so much more to this than "just flowers"".
Hi friends!
I'm so glad Cassidy asked me to chat with you about one of my favorite things in the world, wedding florals! If you're reading this, you're probably a couple who is planning their wedding or will be soon. I hope this helps you think about developing your floral design with your florist and how you can make florals work in your budget, and why they are absolutely worth it!
First things first, you've hopefully connected with an incredible planner like Cassidy or are working on that. They can help point you to some great florists that they've worked with that may fit within your overall budget well. Odds are, you've probably also done a bit of Instagram research and found some designers that really speak to you style-wise. Make a list of a few florists that are in your area and reach out for their availability. Do this after you have a date and venue locked in!
There are a few things that are important to bring to your potential florist right away. All florists operate a bit differently, some will send you a questionnaire that asks for all this info, others will set up a phone call and ask you various questions, some will have you send them whatever info you have. No matter how they ask for it, all florists will eventually need the below info to put together an estimate and design proposal for you. 
Color palette & Favorite Flowers:
Share any details of what you envision color-wise! Whether that be wedding party attire, linen colors, or overall color theme- you'll want to share any details you have. You'll also want to share your favorite flowers and types you don't love, keeping in mind that the season of your day is going to determine what is available.
Style Notes:
Think about and share what your overall vibe is going to be. Are you envisioning your day to be more Boho? Elegant? Modern? Rustic? Provide any of your style ideas to your florist. A Pinterest board is incredibly helpful here! If you're having trouble nailing a description, your Pinterest board will help your florist get an idea of your vision and give you ideas on how to incorporate florals into it. So, start pinning! A great florist won't be copying any of this but will use it to inspire the design for your day.
Item Quantities & Budget:
You'll want to write out the amounts of what you need! The most important are wedding party and guest count for tables, as those florals will make up the bulk of your estimate. Do you need flowers for an arch? Along your aisle? For your welcome table? Think of as many details as you can and make a wish list. Provide design notes and sizes where applicable.
Look at your overall wedding budget and think about what you're able to allocate towards florals. If you're unsure about the typical costs of florals, there are plenty of resources online and your planner should be able to help you! Be transparent with your florist when asking for an estimate. Many will be willing to suggest ideas that will help you meet your budget goals. It's best to create a must-have and a wish list, so you have pieces that you may be okay foregoing to be able to make your budget work.
Think of as many details as you can and make a wish list.
Places not to skimp:
Do what works for you financially and brings you joy.
The vast majority of couples have a wedding budget, wedding vendors and florists know this. I don't encourage you to stretch farther than you can to fulfill a vision that you've found on Pinterest or been pressured to have. Do what works for you financially and brings you joy. No matter what you plan, your wedding day is going to be magic in its own way. As a florist, there are a few things that I will encourage you to prioritize and not "skimp" on. If you can't fit every bloom into your budget, focus on these.
Your Bridal Bouquet: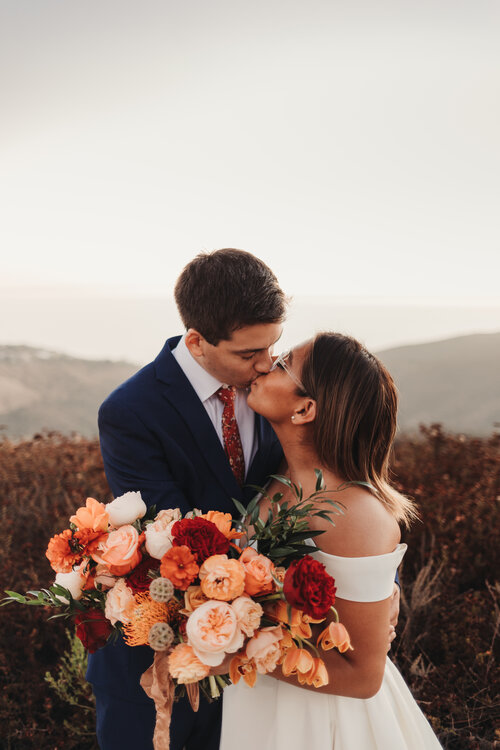 This is in almost every photo, it's one of the floral pieces you will never forget from your wedding. If you have to make any cuts to your floral budget, I would advise keeping your bouquet the top priority. This is where I would tell couples to ask for any premium florals, silk ribbon, and be the most thorough in expressing what you're looking for.
Keep bridal bouquet the top priority!
Your Ceremony:
A budget hack is to use all these florals for your reception as well.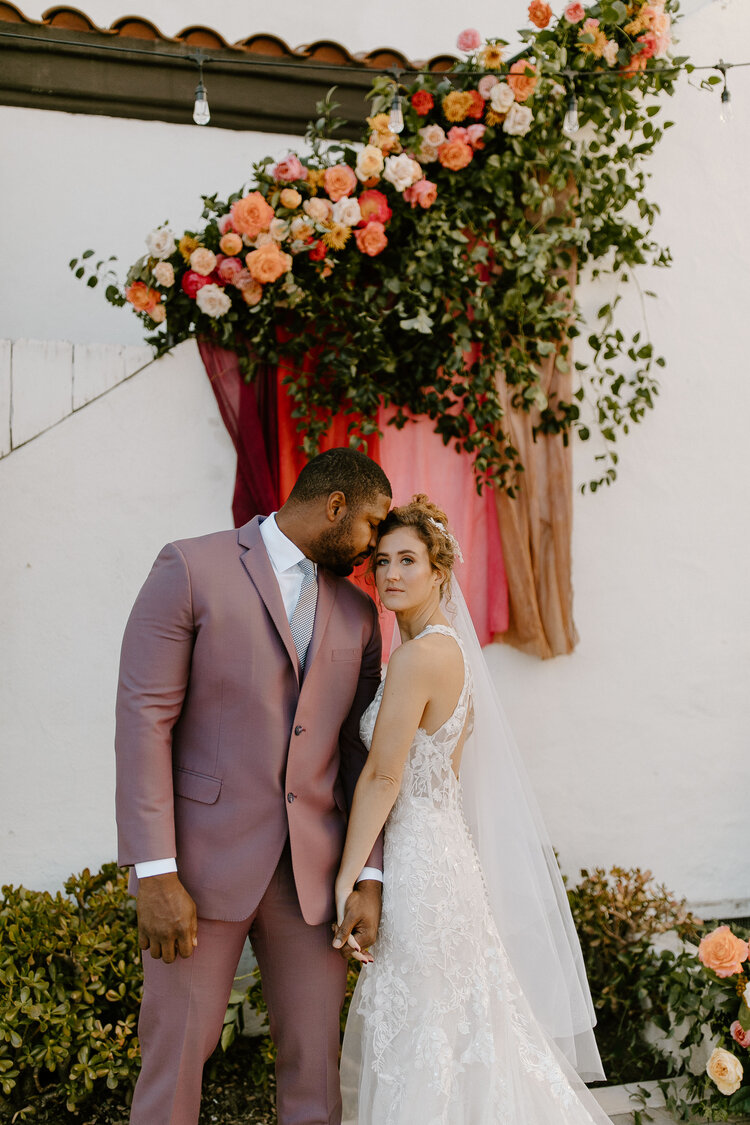 These florals frame you tying the knot, they're the easiest to see in photos and set the stage for your day. A budget hack is to use all these florals for your reception as well. Florists will charge for this service, but most will be able to give you ideas on how you can get the most of your ceremony florals. I always recommend focusing on the arch florals since they will be in all your photos. It is also one of the items your guests are looking at the most. You can move and use these florals at your sweetheart table during the reception to save some money and get the most of them. The same goes for any florals along your aisle. They will be in many of the same photos and you can ask how to use them on your guest tables or as an accent during your reception.
There are a lot of layers to planning your florals but I will forever believe that flowers at your wedding are the most important decor detail. Their value goes a long way and will be incredibly memorable for you and your guests. I hope these floral insights help you envision how you can make an impact with your florals on your day while staying within your budget, and how to find the best florist to help you through it. Happy planning!
Cheers to You,
Billiann